---
Daily Market Commentary for June 15, 2018
Bulls Take A Breather
Global markets were down today after President Trump imposed new tariffs on China and the U.S. market drifted lower. Traders took some opening profits on this triple-witching options expiration period...... [MORE]

---
Weekly Market Letter for June 15, 2018
Busy Week Ends Mixed
Rally pauses on rate hike and tariffs.
The market was mixed this week as investors grappled with a strong U.S. dollar, further flattening of the yield curve and a new round of tariffs issued by the President as the week ended. Losses in...... [MORE]


---
Tuesday Tech Talk - 06/12/2018
June 12th 2018


Tech Talk 06-12-2018 from Market Edge on Vimeo.
---
Exclusively for MarketEdge® Subscribers!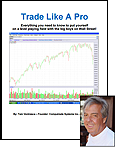 For a limited time, subscribers to Market Edge® can get a pre-release copy of the new book, Trade Like a Pro: Everything You Need To Know To Put Yourself On A Level Playing Field With The Big Boys On Wall Street! This opportunity will help you leverage the power of Market Edge® to find The Right Stock at the Right Time™

Subscribe NOW for a 14 day Free Trial of Market Edge® to get Trade Like A Pro!

---
Video Tutorials


We have developed a series of video tutorials to help you navigate various modules of the Market Edge site. Click here to check them out.




Most Searched Stocks/ETFs
USO
UNITED STATES OIL FUND LP
PANW
PALO ALTO NETWORKS
BA
BOEING CO
AKS
A K STEEL HOLDING CO
MDR
MCDERMOTT INTL INC
......
[Complete List]

Market Edge Favorites